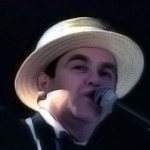 When you tune to BlackLight Radio for 80s internet radio, you know you're going to hear plenty of Elton John ("Little Jeanie," "I Guess That's Why They Call It The Blues," "I Don't Wanna Go On With You Like That"). Well, Elton has just completed recording a NEW album called "The Diving Board." The album will be released this Autumn, 2012.
Although initially not excited about going back in to the studio so soon after his last album ("The Union"), he ended up writing six songs a day for two days, laid down the twelve tracks in just four days, & then picked 10 tracks to make the final cut for the album. "It just came flooding out," Elton told Rolling Stone Magazine. "Quickest record I've ever made."
T Bone Burnett ("Truth Decay," ""I Wish You Could Have Seen Her Dance"," "When the Night Falls") is the producer of Elton John's new album, and it was T Bone's suggestion that Elton record the tracks as a three-piece combo consisting of Elton on piano, Raphael Saadiq (who played alongside Prince on his "Parade" tour) on bass, & Jay Bellerose on drums. On two of the songs, the trio is augmented by guitarist Doyle Bramhall (who has toured with Pink Floyd's Roger Waters & was second guitarist in Eric Clapton's band in the 2000s).
Drummer Bellerose played on Elton's last album "The Union" & has worked with John Mellencamp, Ray LaMontagne, Robert Plant & Alison Krauss.
John calls it "the most exciting solo record I've done in a long, long time."
In addition to the new album, John is working on a book of reminiscences from the Aids epidemic. Plans are also advancing for a proposed biopic, which could star Justin Timberlake. "We're searching for a director," John's partner, David Furnish, recently told E! "There's no race to make this. We're just going to take the time to make it right."
When "The Diving Board" is released, BlackLight Radio will plan a special weekend to mix Elton John's new tracks in with the 80s internet radio you've grown to expect from us; keep checking back for details!
—
Information for this post was gathered in part from this Rolling Stone article.