Via RTE Ten: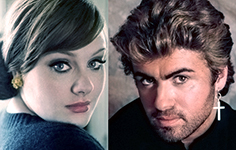 Former Wham! frontman George Michael ("Careless Whisper," "Faith," "One More Try") is back in the recording studio after his life-threatening bout of pneumonia in Vienna.
The singer flew from Australia to the UK last week to present Adele ("Rolling In The Deep," "Someone Like You," "Set Fire To The Rain") with one of her Brit Awards and is said to 'adore' the singer.
Both musicians have had spells of bad health recently and have taken time out, but both have apparently made full recoveries.
The British songstress picked up two awards at the recent Brit Awards, following her six awards at the Grammy Awards last month.
Both George Michael & Adele are working on albums at the moment, it is unclear whether a collaboration will appear on both albums.