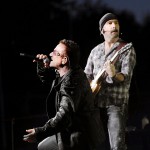 SOURCE: AllVoices
PIC SOURCE: Belfast Telegraph
By Sherrill Fulghum
(Los Angeles, CA) There was a time when an artist would take a week off, or two at the most, from playing live gigs; enter the studio; & record an entire album ready for release in only a few weeks. Today it takes artists months & even years to complete an album.
Whether musicians… or fans… believe the world is scheduled to come to an end, quite a number of singers & groups have planned new album releases in the coming year.
Material girl Madonna is scheduled to play the halftime show at the February 5 Super Bowl & in March she will release a new album.
The boys of Van Halen have announced a reunion tour with David Lee Roth, Eddie Van Halen & his son Wolfgang. Along with the tour the rockers are releasing a new reunion album on February 7.
Depending on which band member you listen to, the boys of U2 may or may not be releasing an album this year. The boys have been in the studio with two different producers & reportedly have quite a few songs ready for an album; but there has been no word on an approaching release.
After the death of longtime friend & band member Clarence Clemmons, "the Boss" Bruce Springsteen was unsure as to whether or not to continue. Ultimately, "the Boss" made the decision to keep making music & a new album is also set for release sometime in the coming months – reportedly the first quarter of the year.
After much balking about a reunion, Ozzy Osbourne has agreed to join up with Geezer Butler, Bill Wark, & Tony Iommi to reunite Black Sabbath. In light of the announcement, a new album is expected for sometime in the autumn.
"Chimes of Freedom" is a compilation of songs originally recorded by Bob Dylan. Over 80 artists have covered Dylan's songs to honour 50 years of Amnesty International. The album set for a February release includes Elvis Costello, Sting, Pete Townsend, & Patti Smith.
Although no release date has been issued, the boys of Aerosmith have reportedly been working on a new album – their first since "Honkin' on Bobo" in 2004. Since that time, Aerosmith has threatened to break up , had numerous medical issues, & has seen the band's leader – Steven Tyler – taking on a new job as a judge on "American Idol".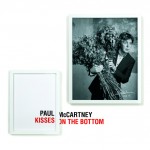 On February 7th, Sir Paul McCartney will release the album he has been wanting to make for some fifty years, an album of standards – the music his Dad used to listen to when Sir Paul was a young lad.
The collection will include two new songs written by Sir Paul himself. While there has been no word on exactly which songs Sir Paul has recorded for the album, Sir Paul will be joined by Eric Clapton, Stevie Wonder, & Diana Krall on the album.
Fellow surviving Beatle Ringo Starr also has an album set for release at the end of January.
—
Sherrill Fulghum is based in Niagara Falls, New York, United States of America, and is an Anchor for Allvoices.