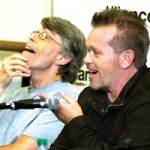 SOURCE: Marietta Daily Journal
by Gloria Love
glove@mdjonline.com
MIDTOWN — In crafting the new musical "Ghost Brothers of Darkland County," author Stephen King & musician John Mellencamp set off down the twisted roads of the Southern Gothic & were led to Midtown's own Alliance Theatre.
The tale of tragedy in a tiny Mississippi town is scheduled to premiere in April to close the theatre's 2011-12 season.
During a developmental workshop at the Alliance in December, King said he began work on the project 12 years ago after Mellencamp contacted him with a ghost story from his home state of Indiana.
"What a long, strange trip it's been," King said. "One of the reasons I got into this and said yes is, first of all, I respect John as a musician and as someone not content to stay in one place.
"I'm in my 60s now. I'm not a kid. … I wanted to try something a little bit risky and something outside my comfort zone."
King penned the story of two brothers and a young girl who meet a mysterious end — and their interaction with the event's one living witness.
Mellencamp stepped in with music and lyrics and brought in legendary producer T Bone Burnett as musical director. Burnett provided similar direction for the 2000 film "O Brother, Where Art Thou?"
King and Mellencamp sought a regional theatre to stage the show, and decided an Atlanta location offered unique advantages.
"We wanted a place that was cosmopolitan but not out of touch with country roots. Atlanta seemed like the middle of the bulls-eye," King said. "You know that song, 'If you can make it here, you can make it anywhere?' That's how I feel about Atlanta and this show."
The pair also wanted the benefit of working with Susan Booth, the Alliance's artistic director, who "has forgotten more about the theatre than John and I know," King said.
"The only other play I wrote was for the Boy Scouts," he said. "I was 10."
King and Mellencamp started to stage the show two previous times, once at the Alliance and once on Broadway, but called those productions off for various reasons, Mellencamp said.
Now, they are solely focused on creating one great Atlanta production, he said.
And after Atlanta?
"I personally don't care if we go to Broadway or Washington, D.C., or to the moon or Indiana," Mellencamp said.
"Ghost Brothers" is set to run April 4 to May 13 at the Alliance Theatre at the Woodruff, 1280 Peachtree St. NE, Atlanta. Tickets are $45 to $85.
For more information, call (404) 733-5000 or visit www.alliancetheatre.org/ghostbrothers