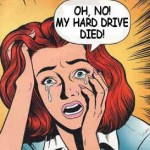 Loudcity has had a hard drive failure (multiple hard drive failures?) Tuesday night, and as a result if you click the play button on our front page, you will get… absolutely nothing until Loudcity returns.
The good news is, there are several ways still to listen to BlackLight Radio:
---
SHOUTCAST
You can launch the Shoutcast Popup Player for our 128 kbps stream. You'll need to click the play button on the page after you click the link.
You can also click here to select either our 128 kbps mp3 stream or our 64 kbps AAC+ stream from Shoutcast.
TUNEIN
This page will give you access to our 128 kbps mp3 stream, launching almost immediately upon clicking the link.
ITUNES
You can also still listen to us using iTunes, by going to "Radio" at the top of your player, then opening the "80s Flashback" section below, scrolling to "BlackLight Radio" and clicking the title.