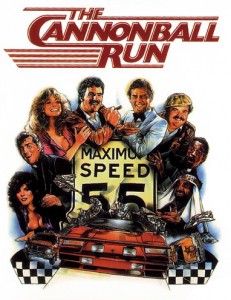 In 1981, you may have been one of many who flocked to your local movie theater to see Burt Reynolds, Roger Moore, Dom DeLuise and Farrah Fawcett team up and take off cross-country in a crazy race to the finish.
Ticket-takers raked in $72,179,579 on the comedy, making it the 6th highest grossing film of the year.
It has since been released on VHS videotape, DVD, & will be out on Blu-ray next month. To further capitalize on the movie's success, Cannonball Run II was released in 1984.
Now comes word Hollywood is looking at running the Cannonball all over again… and this time with the financial backing of an American automaker!
You'll find all the details in this article from New York Magazine.
What do you think? Is this a journey worth taking? Or are they "off" even before the starting gun? Leave your comments below.