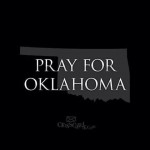 The 1980s had their share of tragedies. The decade opened with the assassination of John Lennon. By mid-decade, the names Smith, Scobee, McNair, Onizuka, McAuliffe, Jarvis, & Resnik would become synonymous with the word "hero" when those brave souls lost their lives in the space shuttle Challenger disaster. The decade would end with the Yellowstone fires, resulting in at least two deaths.
One thing has always been true about our nation: whenever we are hit with death & destruction, we pull tighter together as a common people.
While Oklahoma is still reeling from what may have been the largest tornado in recorded history, and the death count climbs near 100, people are coming together to help those who lost everything in the town of Moore, OK.
Would you consider helping?
— Text the word "FOOD" to 32333 to donate $10 to Channel 9 In Oklahoma City's rescue fund.
— Text "REDCROSS" to 90999 to make a $10 donation to help tornado victims.
— Text the word STORM to 80888 to make a $10 donation to the Salvation Army's relief effort.
— Text the word AID to 50555 to donate $10 to Operation USA & their services to the storm victims.
If you need a break from the cleanup coverage, BlackLight Radio is here for you with happier memories from another era.
Our thoughts and prayers are with those suffering the Oklahoma City area tonight.