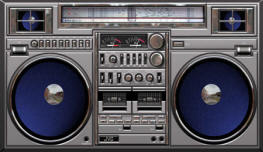 If you look to the left of this post, you will see a link to a mobile app. If you are on either an android or an Apple product, that link will take you to your app store to download, for free, an app locked to BlackLight Radio.
First, the good about this app:
1)  It plays BlackLight Radio only,  and it launches quickly. It's the closest thing I've experienced to turning the radio on to your favorite station.
2) The app lets you see some nice details, like a list of recently played songs and a photo of the currently playing artist.
3) By using the app, you're helping BlackLight make money! The full – screen ad that pops up when you open the app and the banner at the bottom both will contribute to paying the bills at BlackLight Radio.
Now the not-so-good:
1) The icon says "Stream Licensing" instead of BlackLight Radio. They provide our music royalty licensing; it's another legal thing.
2) The artist photos are REALLY distorted. I'm working to figure out why, and get the pictures clear and clean on your phone.
There are many exciting things in the works, but this is all I have time to tell you about now. Enjoy your mobile 80s on BlackLight Radio's mobile app!