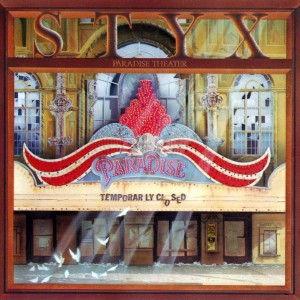 ---
Let me first get out of the way that, yes, I know, "All I Need Is A Miracle" is by Mike + The Mechanics, while "Paradise Theater" is by Styx and contains "Don't Let It End." BlackLight Radio plays both songs, so I feel justified in mixing and matching for this post.
This will be a post of "maybes," a visit from "The Ghost Of Christmas Future," if you will.
Every legal internet radio station has to pay royalties to composers through ASAP, BMI & SESAC, and pay royalties to record labels through Sound Exchange.
Since 1998, small webcasters (those making less than about a million dollars a year, which is just about everybody except commercial broadcasters, Pandora, and I Heart Radio) have had reduced rates which allowed them to band together through companies like Live 365, Radionomy, and StreamLicensing.com and share the expense, and in this way make webcasting affordable.
Just a few days ago, the new webcaster royalty rates were released… and there are no longer small webcaster rates.
This jumps our expenses from about $30 / month to about $300 / month, which is completely out of my reach. The station had just started making enough each month to cover its own expenses, but there's no way on a cable dispatcher's income I can make up the extra $270+ / month the new rates will require.
If this is the rate we are required to pay, it means that BlackLight Radio will cease streaming as of January 1st, 2016.
You might think I'm going to ask you to help, but the reality is, it's too late to help. The big broadcasters made the deals, and we've been shut out. About the only thing you can do is contact your local congressmen, but in the past we've been met mostly with apathy.
I simply wanted to let you know what happened if we are gone in a little over a week.
There are efforts being made behind the scenes to try and prevent this shut down. It is possible we may get a last-minute deal which will make rates affordable. We might end up moving to a different service, or only being available with a subscription, or we might only be able to broadcast outside the United States. (Ironically, the "freest country in the world" has the most oppressive music licensing fees.) We might be gone for a little while, or we might be gone for four years until rates are re-negotiated. We might be gone permanently.
I can promise you that we are not going down without a fight, and if there is a way to provide you with the 80s greatest hits in 2016, we will find that way.
If not, I can only tell you that it has been an honor and a pleasure to bring you back all this great music… and I will miss it just as much as you will.
Thank you for listening.
(I will update as information becomes available.)