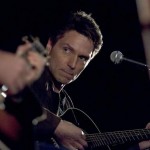 SOURCE: Delaware Online
Like Don Henley, Peter Cetera & Phil Collins, Richard Marx has become a punchline for hipper-than-thou fans of metal, rock or rap who want to blast a pal for liking something light.
As in, "Man, what are you doing with that Coldplay record? You'll probably stack it next to your copy of Richard Marx's 'Repeat Offender.'"
Or, "The Killers? Really? What's next – you gonna grow your hair out into a Richard Marx mullet?"
But is that really fair? I say no.
Because while I never had a glorious hair helmet like the one Marx sported throughout the 1980s, I did own "Repeat Offender" (which hit No. 1 on the Billboard album charts, by the way) as well as the self-titled debut, & I listened to them. A lot. (Granted, I was 12 at the time, but still.)
Hey, the guy was the first male solo artist to place his first seven singles – "Don't Mean Nothing," "Endless Summer Nights," "Hold On To The Nights," "Should've Known Better," "Angelia," "Right Here Waiting" & "Satisfied" – within the Top 5 of Billboard's singles charts.
He's real light rock, but if you watch him in concert, he resembles more of a poor man's Bryan Adams than a regular dude's Michael Bolton, especially with his current normal haircut. And he takes it all in stride on videos posted on his website, saying he didn't have any friends in the '80s, because if they did they would have said something about his outlandish headdress.
It's true that the stream of hits dried up to a trickle by the mid-1990s, but after that Marx went behind the scenes & did just as well, if not better.
In 2000, he wrote "This I Promise You," a Top 10 hit for 'N Sync. In 2004, he shared a Song of the Year Grammy with the late Luther Vandross for "Dance With My Father," which they co-wrote. He wrote two big hits with Keith Urban – the 2005 smash-hit "Better Life" & the tune "Everybody" from 2007 – that both went to the top of the country singles charts. He also co-wrote a song with Ringo Freaking Starr & even toured with the legendary drummer's All-Star Band.
Most recently he went modern rock with "Emotional Remains," which first came out in 2008 but was re-released in fall 2009. Check out the big guitar riff that propels "For Better For Worse" – it's almost, well, cool!
Marx is out on tour now, and will shift gears into solo acoustic mode when he arrives at the World Cafe Live at the Queen, 500 N. Market St., Wilmington, at 8 p.m. tonight. Doors open at 6.
Tickets are $36-$56. Visit www.worldcafelive.com.