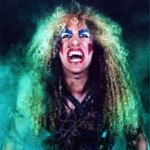 Halloween is coming, the goose is getting fat…
…No, that's not it…
We ARE getting ready for another 80s Halloween here at BlackLight Radio, and YOU can help prepare the tricks & treats for the listeners this year! Starting today and every day through the end of September, we'll post a new survey of ten 80s songs which might have something… or NOTHING… to fo with Halloween.
Each day, you click the new link posted, and tell us what you think of those ten songs… or if you've ever heard of them. Michael Jackson's Thriller seems like a no-brainer… but is Bow Wow Wow's "I Want Candy" a Halloween song to you? How about "Love Bites" by Def Leppard? Maybe not… but are you so sure either way about The Police's "Spirits In The Material World?"
Starting October 1st, we'll begin stirring the musical cauldron here at BlackLight Radio… we'll add one song an hour… then two… then three… then FOUR spooky tunes an hour as we get closer to Halloween!
Finally, Halloween night, join me (Gene Savage) for a Spooky-40 countdown of the top 40 creepiest creations to crawl out of the 80s! It'll be the perfect soundtrack as you greet your neighborhood ghouls and goblins.
Enough talk; let the screaming start! Here's the link to today's Halloween music (or not) survey:
BlackLight Radio's 80s Halloween Music Survey #1
THANKS in advance for your help… and… in the words of one of our FAVE 80s vamps: "unpleasant dreams…"