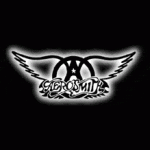 The theme seems to be "celebrity teeth" today…
Now it's Steven Tyler, who's currently in Paraguay. Most specifically, he's now in a Paraguay hospital, after slipping & falling in a hotel shower there.
Reports are he took a pretty nasty fall, knocking out several teeth and causing the cancellation of tonight's performance.
You'll remember Tyler for leading "The Bad Boys From Boston" through massive 80s hits like "Angel," "Love In An Elevator," and "Janie's Got A Gun."
…Or, if you're a little younger, you may remember him as one of the judges on American Idol. 🙂