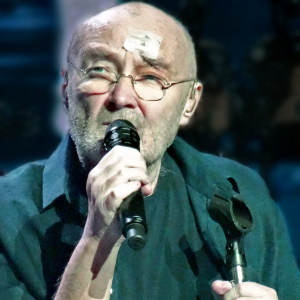 For those unaware, Phil Collins ("Against All Odds (Take A Look at Me Now)," "Sussudio," "Another Day in Paradise") launched his "Not Dead Yet Tour" (named after his autobiography) on June 2nd in England.
If you missed that, you may have also missed that on June 7th he fell in his hotel room after getting up to go to the bathroom in the middle of the night.
In the fall, he hit a chair and ended up requiring stitches for a gash on his head close to his eye.
He was held at the hospital for 24 hours for observation.
The good (amazing?) news is that he was able to resume his tour Sunday, just four days later!
Despite his ordeal, the singer looked in good spirits as he returned to the stage.
Collins sported a white bandage on his forehead for the performance in Cologne, Germany, covering a mass of stitches above his left eye.
Phil sat for the night's performance, while his 16 yr old son Nic Collins backed him up on drums.
He sang many of his hits, both solo and with Genesis: "Against All Odds," "One More Night," "In The Air Tonight," "I Missed Again," "Sussudio," "Follow You, Follow Me," "If You Love," and "Take Me Home."
His performance earned him a standing ovation from the sold out crowd at Lanxess Arena, where he has a five-date residency.
"Last night was number two of five sell-out shows in the 16,000 seat arena and for the second night all of the audience was on its feet for the whole second half of the show," Collins' rep told the New York Post.
"Phil had a huge grin on his face, he is feeling better and better and although tired is very happy."
He will also be performing in Paris and returns to London for a June 30 show in Hyde Park.
Collins' canceled concerts at the Royal Albert Hall in London for last Thursday and Friday were rescheduled for November.
His "Not Dead Yet Tour" marks Phil Collins' first tour in nearly 10 years.
As for more concerts around the world, Collins tells WROR in Boston that he'll evaluate after this month's European run is over:
"I'm back a bit."
"I mean, we're doing these three cities… and we're basically taking it as it goes."
"I certainly don't want to go back on tour again, but I think, y'know, two or three weeks of shows, then a month off, the two or three weeks of shows, that kind of thing might work."
"So I'm hedging my bets here."
"I'm just taking baby steps… But it's exciting, and the dates are sold out so that's more exciting 'cause it adds a bit of an edge to it."
Phil Collins has released 8 studio albums, 1 live album, 3 compilation albums, 45 singles, 16 video albums, 38 music videos, 2 soundtrack albums, 2 box sets, and 1 remix album.
A Grammy and Academy Award-winning solo artist, Collins has sold more than 33 million albums in the United States, and 100 million records worldwide.