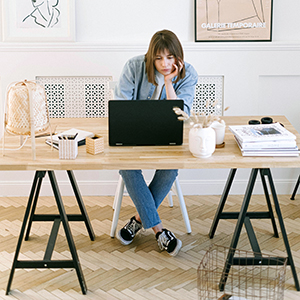 With so many people working at home now because of the coronavirus, it's easy to get out of routine. Perhaps you listened to BlackLight Radio every day at the office, but now that you're home it's easy to forget to put on the tunes. This article is designed to help you get you back into the 80s groove, wherever you may be working from right now.

Working from home usually means working from a computer, so often this is the easiest want to listen. Just make sure your employer is OK with you using the computer they sent home with you to stream music!
Depending on your home environment, you may want to plug headphones into your computer to listen (the stereo separation is fantastic!), but I find an advantage of working at home is being able to put it on speakers. Although you may have a built in speaker on your computer that will work fine to listen, I like to hook up bigger speakers for better sound. I'm running from the output of my sound-card to the input of a stereo receiver and then cranking it up on a pair of bookshelf speakers and we sound great!

Another easy option for most people is using their smartphone to listen to BlackLight Radio. I would recommend if you're going to listen all day using your phone, use a USB cable to keep your phone charged. Again, if you're thinking about plugging into your company's computer for the charge, make sure to run this by HR first! Many companies don't want you plugging anything in that could access data or upload information.

Just like the computer speaker, the speaker on your smartphone may be fine, but I prefer to hook up a better speaker for better sound quality. With the right Y-cable you could hook up from the headphone jack (if you phone has a headphone jack) to your stereo, but for most people the easiest solution will be a bluetooth speaker. This can allow you to move your phone away from your desk (and perhaps closer to a wall charger) and put the speaker where you like it for the best sound.

Another option you may not have considered is your smart speaker. If you have a Google Home speaker or an Alexa Echo or something similar you are likely able to play BlackLight Radio. If just asking to play BlackLight Radio doesn't do the trick, you may need to activate a skill such as Simple Radio or TuneIn. I like to sync up the Echo Dots I have around the house through the Amazon Alexa app!
Perhaps you can think of other ways to listen to BlackLight Radio while you work from home. I'd love to hear your suggestions, and I know our listeners would benefit, too! You can post your ideas below.

We've all had to make many adjustments since the pandemic started; one adjustment you shouldn't have to make is doing without the 80s greatest hits on BlackLight Radio!