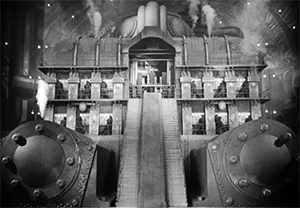 For those unaware, BlackLight Radio has returned, streaming the 80s greatest hits 24/7/365. (You can click the play button to the right –> to listen to us. Since our last go-round, there have been a few (positive) changes I wanted to share.
First, we are commercial free. We tried to go with an advertising agency to generate income to pay for our licensing, but there was never any way to get financially ahead of the bills. We are working on some new in-house ideas for (minimal) advertising that should pay for our licensing, and perhaps generate some income off of the website to help pay for our licensing fees as well.
Second, you'll notice on many media players, web pages, and apps that you now see the album title. I don't know of any other internet radio station offering this information embedded in their stream, but we thought it would be helpful for you as you expand your 80s music collection. To help you read the stream: "Michael Jackson – Billie Jean ('83) [Thriller]" translates to Michael Jackson is the singer, the song in Billie Jean, the song was a hit in 1983, and it is from the album Thriller. You could also say it as "ARTIST – SONG (YEAR) [ALBUM]." I hope this enhances your enjoyment of the music on BlackLight Radio!
Third, we've added ourselves to numerous websites and apps to improve accessibility and discovery. A partial but incomplete list of sites we've recently added ourselves to include Opti Radio, vTuner, Radio.net, Nobex, Music Goal, Streema, StreamFinder.com, and RadioGuide.FM. If your favorite site or smartphone app isn't listed here, let us know and we'll get in touch with them and try to get our stream added!
Fourth, with the addition of so many site listings, we've upgraded our servers. We can now handle 9,999 listeners at the same time… so stream all you want, we'll make more! Our servers are located in Canada and are pulling in listeners from around the world… listeners have to tuned in to BlackLight radio from over 60 countries around the world, including Germany, Columbia, Argentina, The United Kingdom, Switzerland, Australia, Hungary, and Japan! The BlackLight is ON, world-wide.
Fifth, and I'm very excited about this, we've started our long-promised BlackLight Radio Listener Advisory Board. Every week I send the board members nine songs from the 80s. They tell me if they like or dislike the song, and I make adjustments to our playlist every week. Over time the Listener Advisory Board will end up making significant positive changes to the music rotations on BLackLight Radio. If a song is voted down it doesn't go completely away but it will be played less often… and if a song is voted up, it's played more often. It means that with every week that goes by you should hear more of your favorites more of the time. If you're a regular listener to BlackLight Radio and would like to be a member of the BlackLight Radio Listener Advisory Board, just send me an email at Inbox@BlackLightRadio.com letting me know. It's free! I'd love your input on the songs we play.
There are many wonderful things on the way, but I think this is enough for now. Keep watching this space for updates! Join us on Facebook for lots of fun 80s content, and of course listen long, loud and proud to BlackLight Radio!!!