A New Way to Celebrate the 80's Generation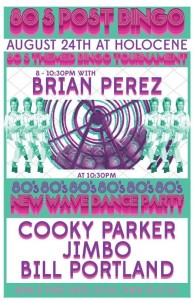 There are some people who are hooked on the 80's generation – from wearing a pair of Reebok High-Tops and Members Only jacket to filling up their iPods with popular 80s hits such as those from Madonna, Prince, and Gloria Estefan. When it comes to having fun, those who were born during the 80's were often seen in the disco club or at the bingo hall.
Even though years have passed by, you can still see some of them going to Culture Club in New York City and playing at CheekyBingo just to get a taste of the 80's again. Combining all the elements of that generation, many organizers from all over the world have hosted their own 80's Music and Bingo events.
To give you some idea on how you can put up your own 80's-themed bingo party, then check out our list of events below:
Banger Bingo
This is not your typical bingo event because it features other elements including stand-up comedy, DJ entertainment, and karaoke. The participants of Banger Bingo all dress up like the famous rockstars of the 80's such as Guns and Roses, The Cult, and Extremoduro. Each bingo ball corresponds to a trivia question, a song, a joke, or a game like the inflatable guitar showdown. The organizer from Alberta, Canada offers their services for private parties, bingo charities, and other occasions.
80's Post Bingo
This event is the brainchild of musicians Brian Perez and DJ Cooky Parker, whose goal is to transport their guests back to the 80's. This mashup party was recently held at the Holocene in Portland, Oregon. The 80's Post Bingo celebrates the magical decade by playing hits from the 80's – from Aviador Dro's new wave songs to Bill Joel's mellow songs. Of course, the party won't be complete without the bingo games. The winners get a chance to take home cool vintage items like Swatch Watch Guards and Rubik's Cube key chains.